Bootleg liquor, dangerous crime gangs and sassy gals – put them all together in a sleazy Speakeasy… and waddaya get?
It's the height of Prohibition in 1920s Chicago, and there's a mob war brewing between the South Side Gangsters and the Northern Chicago Mob Outfit.
The two ruthless crime leaders Hal Sapone and Beanie O'Dannon have finally reached an agreement on bootlegging practices in Chicago and have decided to pull together resources to undergo a collaborative effort with criminal endeavours.
On the surface, this strategy seems similar to bailing out a sinking ship with tin cups, nevertheless….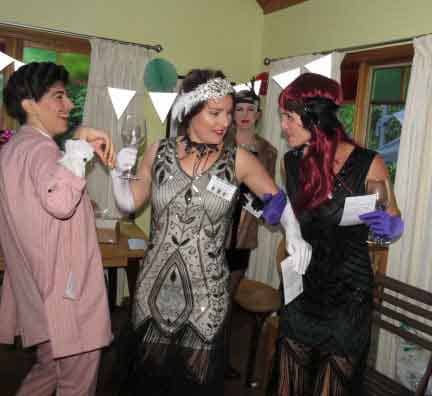 Gatsby Theme Parties are all the Rage
Totally absorb yourself in the 1920s, with a Jazz Band!
For a really top-shelf Gatsby themed Murder Mystery Party, these guys will play an instrumental sound-track throughout your event – making your night the best ever!