Murder Mystery games have evolved since the original Victorian parlour games.
In the 1980s the 'How to Host a Murder' box sets were popular, making the games more intimate and accessible for a family or group of friends to get together for a unique and hilarious dinner party.
Since that time, several other formats have become established. Here is a brief description of some of the major formats which the Murder Master offers for your next homicidal event.
The Mingle Format is a great way for you and your group to dress up and role-play characters who each have their own objectives and motives for Murder.
This format can be played with or without a meal, the most important thing is that everyone is encouraged to mingle. This format works best when you are not glued to your seat but instead move around eves-dropping on other people's conversations, having your own quiet 'words', and perhaps indulging in a little blackmail.
The Scenario (storyline) is selected at the time of booking and the characters are allocated to the participants a couple of weeks before the main event.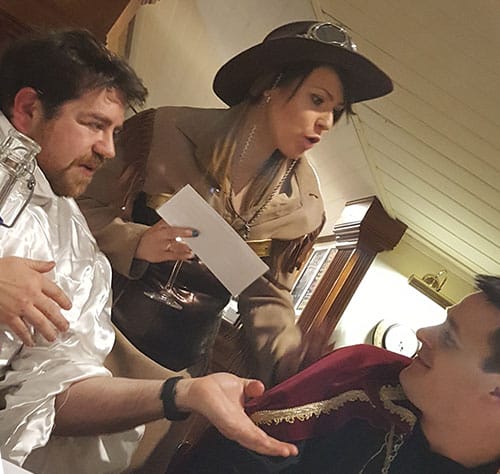 With the theme and characters in mind, everyone has the chance to organise a great costume. A lot of people raid their (and the family's) wardrobes; others start haunting charity and second-hand shops to come up with creative options (eBay and Etsy seem to be good sources too); and some people go crazy making their costumes. By the time you all arrive at the main event, you will already have had a ball preparing for a killer time.
These games are typically played over three or four rounds. The Murder Master® allocates character notes to everyone during the event, giving them clues to hunt down, dirty objectives for their own evil purposes, and grubby (and sometimes, naughty) details about everyone else in the room.
Often the victim is killed right in front of everyone during the event; or sometimes the killing has already happened before people arrive… either way EVERYONE is a Suspect - someone amongst you is a
Murderer
!
The people who will most enjoy this style of Murder Mystery game will probably be sociable types who love a good laugh. People who like dressing up and role-playing will enjoy these events… Some people might be into Cosplay, or theatre / dramatics, or their 'thing' might be GURPS (Generic Universal Role-Playing System) or other fantasy themed games such as Dungeons and Dragons etc.
In this style of Murder Mystery, you cannot trust anyone else… they're all out to get you; to survive, you have to be more conniving and have quicker wits than they do.
If you and your group want great fun with a good dose of character-play, a Mingle Format will be ideal. A minimum of 10 people is required for this format.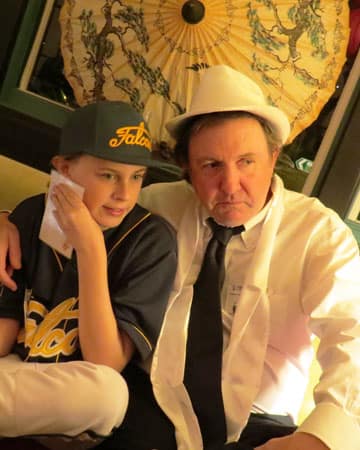 The team-centric Murder Mystery games are similar to the above Mingle Format in that you get to witness a killing and hunt for clues to solve the Murder… but this format is less about the individual and more about playing a 'game' and competing against other allocated teams.
While a theme and storyline are selected before the event, funny character names are allocated when people arrive for the event. This gives you and your group more freedom to dress up any way you like rather than organising a wardrobe for specific characters. You'll have the most fun when you dress according to the theme, or you can choose to simply arrive dressed to party.
When you arrive, the Murder Master® will give a character name tag to each of you and set the scene. He'll divide you into small teams; and each team will compete for the clues which he is holding. To win the clues teams will play party games against each other hoping to win the advantage and acquire the most clues. Lots of 'friendly' cheating and other dirty tricks tend to be on display during these games… it's all quite hilarious.
This Murder Mystery format is great for people who are more interested in friendly games than role-playing. It is particularly good for family groups, where some of the younger children might be less intimidated by being a part of a team with an adult or older sibling. If you just want to be silly, this is for you and your group.
The minimum number of people required for this format is 10.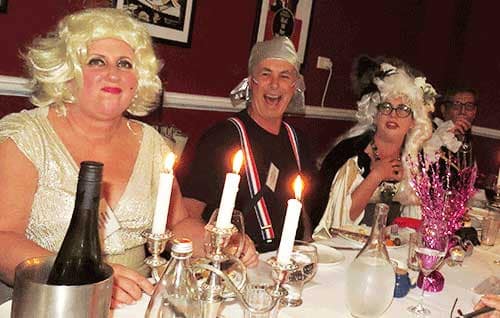 As implied by the subtitle above, these Murders are specifically written for a sit-down dinner party, to be played over entrée, main and dessert… perhaps port and coffee afterwards.
The game is played in four rounds at the dinner table – although often the last round is played after dinner away from the table… that's where port and coffee might come in.
Your guests arrive in a costume suited to their role / character in the game (which are allocated a couple of weeks before your event). The costume can be elaborate, or simple such as a single costume piece that represents their character; a pair of silly glasses, a crazy hat, a moustache. It depends on how elaborate the player wants to get. Bigger is always better!
The Murder Master® supplies each player with questions and answers, and typically an accusation clue or two. For this style of Murder Mystery to be successful, it is important that everyone can hear all the questions and answers, hence the dinner-table arrangement.
At the end, everyone has the opportunity to solve the mystery and guess who "did it"; then the Murderer is unveiled when the Murder Master® reveals the solution.
The number of participants depends on the game chosen; typically, 8 or 10.
These case file Murder Mystery games are a unique experience. Unlike the above Mystery games, these are not role-playing and can be played solo or with a group.
Instead, you step into the shoes of a Murder Investigator and help solve whodunit by sifting through a case file which is full of evidence including a series of police interrogation videos, a coroner's report, call logs, and much more.  Playing Sherlock or Marple like this will provide you with hours of enjoyment.
Depending on requirements, the Murder Master® can guide you through a case throughout a single afternoon or evening… or even over several days to prolong the experience. This is a particularly good activity for a family holiday, or business conference where some light entertainment to break up dry subject matter would be welcome.
This Murder Mystery format can be hosted by the Murder Master® in person, or via remote delivery such as by video and / or email.
This game may be played solo or with a group of any size.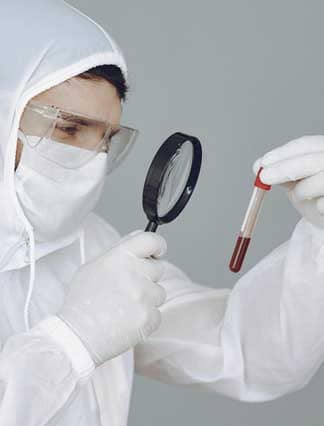 Whatever Murder Mystery format works best for you and your group, your next Party if going to be TOTALLY worth Dying for!
Go on… book the Murder Master® and bring out your Inner-Detective.